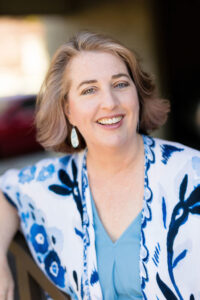 Painfully shy as a child, Jen was unable to communicate with anyone outside her family except through drawing. Visual language was her first language and she never lost her passion for its ability to communicate for her. There was never a day she "decided" to become an artist. For Jen, there was just no other way to be.
Jen Norton graduated from Santa Clara University in 1987 where she earned a Bachelors degree in Fine Art, with a Minor in Business.
After graduating from college, Jen worked as a Graphic Designer for CKS Partners in Cupertino. Developing marketing communications materials helped push her from purely personal expression to full conversation. After ten years as a graphic designer, Jen left to pursue painting and raise her daughter. 
Meaningful relationships and everyday moments of family and home are her subject matter, revealing the Jesuit principles of finding God in the everyday and mundane that were instilled in her education.
Jen works in acrylic, using expressive color, texture and pattern to reveal the sublime in the ordinary. She begins each painting with underlying layers of intense hues and expressive brushwork, which gradually become hidden from view as the painting progresses. These underlying layers are important to the depth of the final work, just as years of spiritual growth are to a well-rounded soul. Jen seeks to develop order and beauty from underlying chaos. 
Jen believes that through art, one can hear the whisper of a mighty Creator. Her intention is that her art may cause you to pause and listen.
To order prayer cards, greeting cards, banners, or posters with Jen Norton artwork please visit Diocesan.com/shop or call 1-800-212-7317.
For more from Jen, visit her website at jennortonartstudio.com.